National Championships in Philadelphia, PA
On April 8th the schools in the Texas Gymnastics Conference attended the NAIGC national championship in Philadelphia, Pennsylvania. After three days of fierce competition they returned home with 48 awards, including one first place team title, one all around title and 7 individual event gold medals.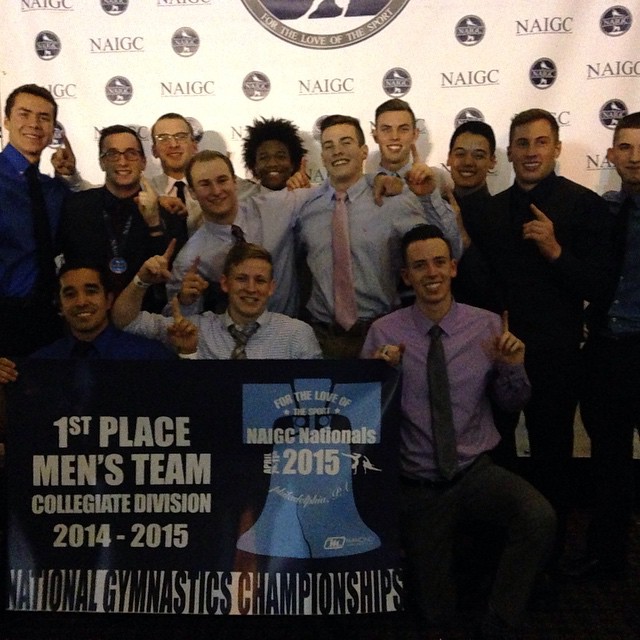 Taking the gold in the men's team competition for the first time was the University of Oklahoma, with Texas A&M coming in third. The Sooners have competed the entire season undefeated, having mirroed their NCAA brothers, who won the NCAA collegiate championship.
On the women's side, the Aggies also took third in the level 9 competition with the Longhorns winning the bronze in level 8.
Taking the all around title home to Texas, UT Dallas' Tommy Trompeter finished his senior year with the top award in the men's collegiate competition. Solidifying his title, Tommy also took home a gold on the high bar and rings and silver on the parallel bars, while also receiving 5th on pommel horse and 6th on the parallel bars.
Other gold titles going to the TGC included men's vault for Aggie Andrew Archer, womens level 8 uneven bars for Longhorn Jacqueline Holland, women's level 9 beam and bars to Aggie alum Molly Stuckey and a 1st on floor for McMurry's Justin Powers.
All the TGC members receiving awards are:
Women's Competition

Vault
3rd place (lv9): Haley Poinsette, University of Houston
4th place (lv9): Justin Powers, McMurry University

Uneven Bars
1st place (lv9): Molly Stuckey, Alumni (Texas A&M)
1st place (lv8): Jaqueline Holland, University of Texas at Austin

Balance Beam
1st place (lv9): Molly Stuckey, Alumni (Texas A&M)
5th place (lv8): Jaqueline Holland, University of Texas at Austin

Floor
1st place (lv9): Justin Powers, McMurry University
9th place (lv9): Molly Stuckey, Alumni (Texas A&M)
2nd place (lv8): Tori Klabunde, University of Texas at Austin

All Around
2nd place (lv9): Molly Stuckey, Alumni (Texas A&M)
4th place (lv8): Jaqueline Holland, University of Texas at Austin
Men's Collegiate Competition

Floor
2nd place: Ryan Terrill, University of Oklahoma
4th place: Andrew Archer, Texas A&M University
5th place: John DeJulio, University of Oklahoma
6th place: Grant Yanker, University of Oklahoma
8th Place: Zake Zenker, Texas A&M University

Pommel Horse
2nd place: Will Know, University of Oklahoma
3rd place: Brian Schibler, University of Oklahoma
5th place: Tommy Trompeter, University of Texas at Dallas
7th place: Ty Montgomery, University of Oklahoma

Rings
1st place: Tommy Trompeter, University of Texas at Dallas
4th place: Jake Maloley, University of Oklahoma
5th place: Will Knox, University of Oklahoma
10th place: Jonathan Franco, University of Oklahoma

Vault
1st place: Andrew Archer, Texas A&M University
2nd place: Bryce Cashell, University of Texas
5th place: Tyson Campbell, University of Oklahoma
6th place: Tommy Trompeter, University of Texas at Dallas

Parallel Bars
2nd place: Tommy Trompeter, University of Texas at Dallas
3rd place: Ty Monmtgomery, University of Oklahoma
6th place: Tied between Will Knox and Ryan Terrill, University of Oklahoma
9th place: Andrew Archer, Texas A&M University
10th place: Bryce Cashell, University of Texas at Austin

High Bar
1st place: Tommy Trompeter, University of Texas at Dallas
3rd place: Ryan Terrill, Universiy of Oklahoma
6th place: Ty Montgomery, University of Oklahoma
7th place: Chase Hames, Texas A&M University
9th place: Bryce Cashell, University of Texas at Austin

All Around
1st place: Tommy Trompeter, University of Texas at Dallas
2nd place: Ryan Terrill, Univeristy of Oklahoma
3rd place: Bryce Cashell, University of Texas at Austin
7th place: Andrew Archer, Texas A&M University
8th place: Billy Conte, Texas A&M University